Nuclear Power Plant Simulator
1.30
Nuclear Power Plant Simulator is a simulation game of nuclear power generation - see how much electricity you can generate without causing a meltdown! You will run the plant to it's limits but do not to push it too hard or warning lights will appear.
Last update
26 Mar. 2007
Licence
Free to try |

$9.95
OS Support
Mobile
Downloads
Total: 1,202 | Last week: 1
Ranking
#4 in Games
Publisher
Ae4rv.com
Screenshots of Nuclear Power Plant Simulator
Nuclear Power Plant Simulator Publisher's Description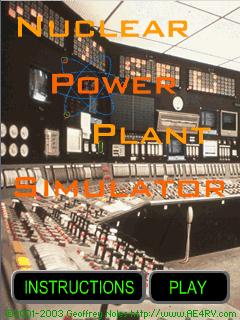 Nuclear Power Plant Simulator is a technical game for smart people ages 10 to 100. You are in control of a small commercial nuclear power plant. Your object is to produce as much electricity as you can without causing a MELTDOWN. You will run the plant to it's limits but be careful not to push it too hard or warning lights will appear. Many things can go wrong if you are not careful. If you don't push the plant too hard it will not break down but your energy output and rating will be lower.
Nuclear Power Plant Simulator is addictive and not too hard to play, but watch out - it is a challenge to do well. The game comes with built in instructions and an animated nuclear plant diagram! You can navigate and control the game with your finger or a stylus. There are numerous gauges and screens and warning lights to keep you busy. You can adjust the control rods to produce heat in the reactor, adjust primary coolant to carry heat to the heat exchanger, adjust secondary coolant to take steam to the turbine and on to the cooling tower. There is also a supply of emergency coolant if you need it. It is a lot of fun to see how hard you can push the machinery without causing small and LARGE problems! Fortunately this game is entirely safe. You will learn a lot about nuclear energy and have fun in the process. The game looks really cool, too. You'll have poindexters all over the office or classroom wanting to check it out. This version is made for your Pocket PC. Take it with you! It is designed to work on Windows Pocket PC 2002 and 2003. Unzip the file and run the "NuclearSimPPC_setup.exe" setup file on your PC and it will install to your mobile device the next time you sync. (You CAN install it to a storage card). The file is one megabyte and requires that you have at least a couple megabytes of program space free to run. Support at "support@ae4rv.com".



What's New in Version 1.30 of Nuclear Power Plant Simulator
New difficulty level option, improvements in instructions, graphics
Look for Similar Items by Category
Feedback